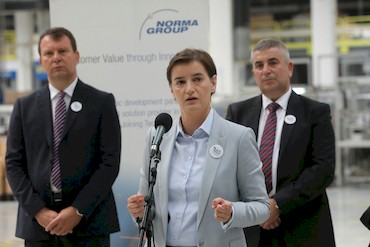 Norma Group, which develops and manufactures clamps, couplings and fluid flow pipelines for the automotive industry, currently employs 1,200 people and exports its products to 50 countries around the world.

Prime Minister Brnabic, together with Provincial Prime Minister Igor Mirovic, Mayor of Subotica Bogdan Laban and representatives of the German Embassy to Serbia, visited the factory and introduced herself with the production processes and operating conditions in this company.

Brnabic pointed out that Norma Group is an example of investors that our country needs. Norma Group Serbia is not just a distribution centre, but the whole process of product development is happening right here in Subotica. Local sense and creativity are used. That is precisely what we, as the government, advocate for – an innovation-based and knowledge-based economy, said the Prime Minister.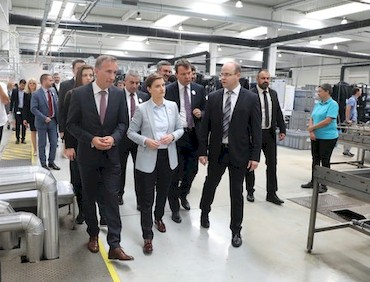 The Prime Minister recalled that Serbia is an absolute leader in attracting foreign investments in the Western Balkans region and that the state is working on improving the business climate on a daily basis in order to increase the number of investors in the future.

The net inflow of foreign direct investment in the first five months of 2018 amounts to more than €1.1 billion, which is almost €160 million or 15.8% more than in the same period of the previous year, Brnabic said.

The Prime Minister stated that Germany is one of the countries whose companies invested most in our country. In Serbia, currently there are more than 400 German companies employing more than 45,000 of our citizens. Our goal is to further improve economic and political cooperation between Serbia and Germany in the future, Brnabic said.