With the Fourth Industrial, i.e. Digital Revolution, we have a chance to make up for lagging behind and catch up with more developed countries. This technological revolution will fundamentally change our lives, it is inevitable and unstoppable. Only winning societies choose to welcome changes, they do not averse from them. The Serbian Government believes that Serbia is ready to lead the entire region in changes that will follow and creation of new possibilities for all. The digitization process will enhance the standard and quality of life for hundreds of thousands of Serbian citizens. Efficiency will be increased, costs will be reduced and new value will be created in almost all areas of life and work. The digitization process is the most important catalyst of innovations, competitiveness and growth.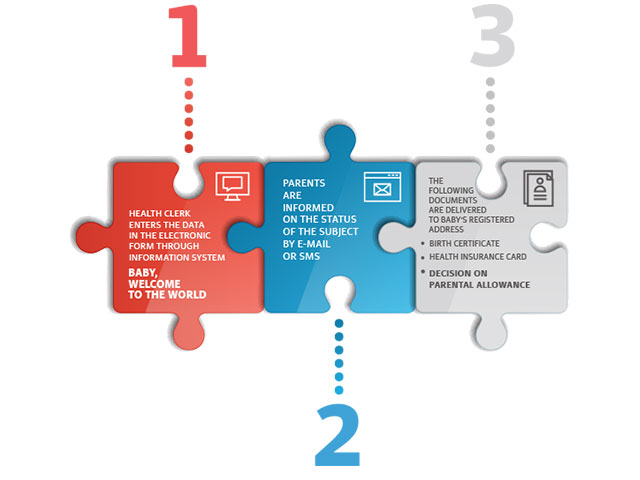 The application is fast, simple, free and it enables elimination of the unnecessary paperwork. The documents will arrive to your home address.
This entire process allows the parents to spend the first day of the baby's life with him/her, and not on counters.
The information system "Baby, Welcome to the World" was started in April 2016, with the aim of making the child's first days of life easier to parents – and allow them to, in approximately 15 minutes, completely free and electronically complete all administrative activities that had previously required several visits to counters and payment of various taxes.
To this day (15/10/2018), the service has been used for the registration of more than 125.000 babies, and the parents decided to take advantage of using the service based on the "one-stop shop" principle in more than 110.000 cases, and to successfully perform registration, register residence and health insurance in the birth register.
The new service is related only to the parental allowance paid out from the state budget. Local self-governments are entitled to introduce additional family benefits within their competences, which are currently not included in the maternity ward service except for the City of Belgrade, whose cash benefits, as a form of support to the women in labour with residence in Belgrade, are part of the service.
Collection of dozens of documents, payment of taxes and visit to at least three counters where parents lose three hours on average are replaced with one modern electronic service, which ranks Serbia among rare European countries that offer electronic services at such a high level.
The parental allowance "on click" will also be available in all Serbian self-government units by the end of year.