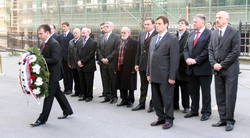 The government delegation that paid tribute to prime minister Djindjic included ministers Milan Parivodic, Predrag Bubalo, Velimir Ilic, Slobodan Vuksanovic, Bojan Dimitrijevic, Zoran Stojkovic, Vojislav Vukcevic, Milan Radulovic, Dragan Kojadinovic and Slobodan Lalovic.

Tribute to prime minister Zoran Djindjic was also paid by members of the government he led.

Zoran Zivkovic, who succeeded Djindjic in the position of prime minister, laid a wreath below the memorial plaque, where the assassination took place.

Members of Zoran Djindjic's family laid wreaths and lit candles at his grave in the Lane of the Great at the New Cemetery in Belgrade, where several hundred citizens came to pay their respects.