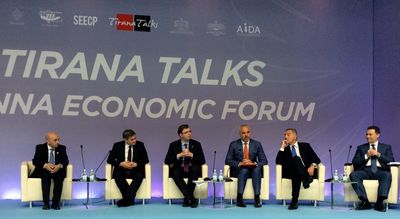 Vucic underlined that in Serbia, whether due to fatigue from waiting or for some other reason, there is a drop in support for the idea of European integration.

However, despite everything, the countries of the region have to work together on projects they will present to the EU and for these projects they will seek financial support.

We have a big market and we have to be united, because thus we have more opportunities to appear before the EU and seek support for joint projects, such as building roads and railways that will connect our countries and peoples, and at the same time create more developed markets and more jobs, Vucic stated.

He added that he suggested Prime Minister of Montenegro Milo Djukanovic and Prime Minister of Albania Edi Rama to sign a consent for the development of more joint projects they will present to the EU.

Vucic highlighted Serbia's readiness for realisation of all integration processes in the region.

I hope we can do more for our peoples and the region. Once we become EU members, we will not be the poorest part of Europe, Vucic concluded.

Opening the event, Prime Minister of Albania Edi Rama stated that the countries of the region first of all have to work on joint infrastructure projects and on the development of foreign investment strategy.

We have to try to bring more foreign investors in the region. Individually we are too small, but together we have a chance, Rama underlined.

Prime Minister of Montenegro Milo Djukanovic said that the region of the Western Balkans must continue with Euro-Atlantic integration, because that is equally important for the countries of the region and for the stability of entire Europe.

Djukanovic noted that only a stable Europe can fully use its potential and be competitive.
The instability of the Western Balkans is generated through economic lagging behind the EU and by eliminating this lag, the instability will disappear too, Djukanovic underlined and in this regard mentioned the importance of the Berlin Process launched last year under the auspices of German Chancellor Angela Merkel.

President of the Council of Ministers of Bosnia-Herzegovina Denis Zvizdic stated that meetings like this one break the stereotypes about our region, and they show openness and willingness to cooperate in all fields, especially in the economic one.

Speaking at the closing of the forum, Prime Minister of Macedonia Nikola Gruevski explained that European integration is in some way a driver of reforms, and in Macedonia it represents a factor of linking of different ethnic communities.

The forum was organised as a high-level meeting and deals with the issue of returning the geopolitical certainty to the Western Balkans.

This confirms the task of the countries of the region - the path towards a common goal of the Western Balkan 6, and that is membership in the EU, it has been concluded at the forum.

Prime Minister Aleksandar Vucic will wrap up his visit to Tirana today.