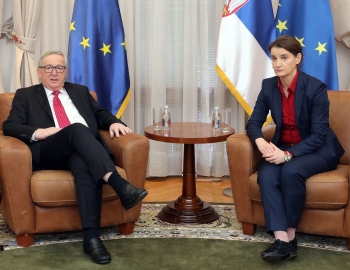 Brnabic pointed out that the adoption of the EU Enlargement Strategy is a encouraging message for the whole region of the Western Balkans, stressing that it is encouraging also that the region is again in the focus of the Union.

She pointed to the importance of the upcoming summits on the Western Balkans, first in Sofia, and then in London, the second to be held within the framework of the Berlin Process.

Minister of European Integration Jadranka Joksimovic, who attended the meeting, expressed her gratitude to President Juncker for the new rhetoric and push that he had given to the enlargement policy and the fact that he recognised Serbia as the most serious candidate for membership in the European Union.

She stressed that Serbia will continue to make reforms to make the accession timeline realistic.

The President of the European Commission reiterated that it is important to continue resolving open bilateral issues through dialogue with neighbours, not because it is a condition for joining the European Union, but because it is of great importance for the citizens of Serbia and the region.

Juncker welcomed the continuation of the Belgrade-Pristina dialogue at the technical level, and expressed the expectation that both sides will actively and responsibly work on the implementation of commitments envisaged by the agreement.

The interlocutors underlined the importance of adopting the Multi-Annual Action Plan for the Regional Economic Area of the Western Balkans, which was adopted at the Trieste Summit.

Juncker underlined that the goal is to support economic development and cooperation in the region even more strongly in the coming period and help infrastructure connectivity.