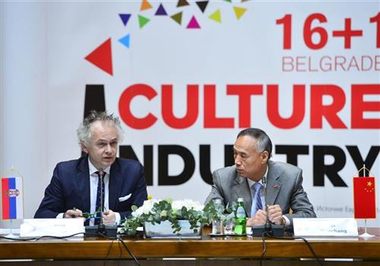 Tasovac said that Serbia and China have a dynamic bilateral cooperation and expressed hopes that this meeting will contribute to finding ideas and solutions for the further opening of international markets and the expansion of cultural industries.

He stated that the new ideas that emerge at the two-day meeting in the Palace of Serbia in Belgrade will strengthen cultural and commercial ties and elevate the traditionally good relations between the countries.

Mancang thanked the government of Serbia and representatives of 16 countries that actively participate and cooperate in this area and stressed that the cooperation between China and the countries of Central and Eastern Europe is deep and traditional.

Our cooperation mechanism from day to day is becoming more mature, Mancang said, adding that cooperation should continue to cover the trade, investment, infrastructure, finance and education.

The Ambassador of the People's Republic of China noted that the importance of cooperation in the field of culture and creative ideas.

We have a motive to cooperate and this platform gives us the ability to improve the cultural and economic sense, said Mancang.

Bearing in mind that China has declared this year the year of cultural exchange, Mancang expressed the hope that cooperation with the countries of Central and Eastern Europe will be even better.

The forum was organised by the Ministry of Culture and the Media and China in cooperation with the National Institute for Cultural Development of Peking University for International Studies.

The meeting brought together experts from the fields of film and television, performing arts, creative design, animation, cultural tourism, museums and galleries to share experiences on the development of cultural and creative industries and explore the potential for future cooperation mechanisms.

A Memorandum of Understanding on cultural industries of China and the countries of Central and Eastern Europe is expected to be signed.