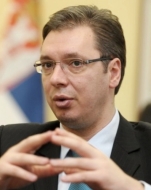 In an interview with the National Business Magazine, issued by the Institute of Economics in Belgrade and the Serbian Chamber of Commerce, he said that the fiscal consolidation measures, which have not been easy and are completed yet, provided the budget deficit smaller than that the one predicted by the IMF and the World Bank.

He said that Serbia, for the first time in its modern history, has well-organised public finances, which constitute a solid basis for a new development cycle and whose reforms are creating the conditions for economic and business development and a better life for citizens. The Prime Minister reiterated that this year will be the first after nearly three decades when there will be no budget revision, and the country will have an economic growth of about 1%.

There is no price growth, the collection of excise duties and VAT is going very well, and the gray economy is drastically reduced, Vucic said, adding that the deficit of the national budget is the lowest in years.

Speaking about the work of state-owned companies, he said he is more than satisfied with the operation of Belgrade Nikola Tesla Airport and Air Serbia, as well as the fact that Srbijagas for the first time does not owe any money to Gazprom, and that EPS entered into a serious project corporatisation.

I believe that it is possible to perform further rationalisation in order to raise profitability and efficiency, and the government will put pressure on all companies in this direction, Vucic said, adding that large systems, such as Telekom will be privatised only if it finds a strategic partner, ready to pay the real market price.

Commenting on the situation in the region, he said he believes that the countries of the region, despite all the challenges, will get a chance to appear together on third markets, will create a common energy system and work on major infrastructure projects together.

Vucic said that regional cooperation is a huge opportunity for all and added that he will therefore insist on the further development of good neighbourly relations and added that Serbia seeks partners all around the world, from Berlin, via Brussels and Moscow, to Beijing and Washington.