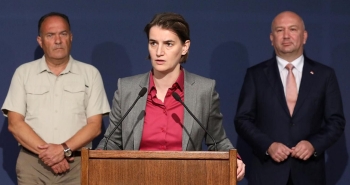 At the press conference held on the occasion of the first session of the Council for Innovative Entrepreneurship and Information Technology (IT), Brnabic pointed out that the Ministry of Trade, Tourism and Telecommunications provided support in networking of 1,750 facilities, while not more than 40 are to be networked within Academic Network of Serbia.

When it comes to higher education, she recalled that during the previous year, an ambitious project started of raising the quota for enrolling students to technical faculties by 20%, with the note that 713 places were provided.

The government noted that IT is the strongest and fastest growing segment of Serbia's economy with a 10% growth annually, while the software development sector is growing as much as 20%, she said, adding that the government will continue to support this economic sector in order to have a more significant aspect of growth of GDP.

Speaking about the new fees imposed by Croatia for import of goods from countries in the region, Brnabic expressed the belief that the European Commission will react if Croatia does not solve this problem alone.

She said that it is good that Minister of Agriculture of Croatia called today our Minister of Agriculture, Forestry and Water Management Branislav Nedimovic.

We were convinced that it was not the intention to stop importation from third countries, including Serbia, by amending the rules, but it still happened, she added.

The Prime Minister confirmed that a meeting of countries in the region affected by Croatian measures will be held in Sarajevo on Monday, where the Serbian delegation will be led by Deputy Prime Minister and Minister of Trade, Tourism and Telecommunications Rasim Ljajic.

The agreement is to send a recommendation to the competent Croatian ministry on Monday to amend the rulebook in order not to violate the Stabilisation and Association Agreement (SAA).

Commenting on the marking of the police and military operation "Storm" in Croatia, Brnabic pointed out that for Serbia it is unclear that someone can celebrate the pogrom.

Today, in Serbia, as well as every year, honour will be paid to all victims, but also to those who lost their homes and property in Croatia, the Prime Minister emphasised.