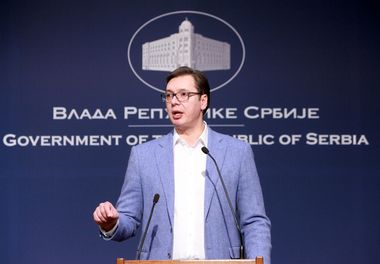 Vucic said at an extraordinary press conference in the Serbian government that Albanians and their special forces tried to blow up a part of the railway during the day, and that later today they sent a special unit from Luzane to Jarinje composed exclusively of Albanians, with rifles, with the aim of provoking a conflict.

The Prime Minister said that that unit was to arrest train driver Milenko Stevanovic and passengers and to provoke clashes, which is why he made the decision to stop the train in Raska.

According to Vucic, since the local Serbs gathered in Jarinje, Pristina sent 17 armoured vehicles to the north of Kosovo with the aim of provoking a conflict.

Serbia wants peace, I call on Serbs to remain calm, but my last warning and plea to the Albanians in Kosovo and Metohija is not to try to attack Serbs with weapons, because Serbia will not allow this, Vucic stated.

He stated that he informed EU High Representative for Foreign and Security Policy Federica Mogherini that he is disappointed with the reaction of the EU to these events, and announced that Russia will be informed during the evening that Pristina is "playing war games", and tomorrow China and the United States as well.

A passenger truck left for Kosovska Mitrovica, not a tank, but almost incredible things are happening, Vucic warned.