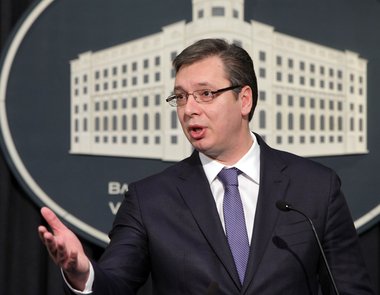 At a press conference, dedicated to the judgments of the ICTY, Vucic said that the court has not fulfilled its primary objectives, which was to work in the interests of reconciliation in the region.

One of the objectives of this tribunal, he added, was the reconciliation of peoples in the former Yugoslavia, that countries and peoples in the region view each other with respect.

He said that the Hague tribunal, however, made decisions that had political role, rather than proclaimed one, but it is, nonetheless, the duty of our country to respect the Muslim and Croatian victims and to understand the pain of others as the pain of our mothers.

He said that our country, after years that have passed in senseless wars, plundering privatisations, corruption and years-long recession, again rose and improved its reputation in the world.

He recalled that the Serbian government has managed to stop a further decline of the country, improved its reputation in the world and the region and also improved the standard of living.

The Prime Minister pointed out that at the very moment when we opened the first chapters, but also when we can be proud of the good fiscal results, followed the new political turbulence for which Serbia holds no responsibility.

According to Vucic, Serbia said it will not go into the content of the judgment because it is not normal that the government of a country comments on enacting terms of judgments.

We said that we will not allow anyone uses judgments to destroy Serbia and Republika Srpska, said Vucic, adding that, unfortunately, only 48 hours after this statement, which was reconciling, followed threats about suit revision.

We replied that it is not good for stability in the Balkans, and we are still ready to talk with Bosniaks, but there may not be room for a political and legal revenge against the Serbs, but we have to talk like partners and friends, said the Prime Minister.

The Prime Minister expressed hope that the Chinese company Hbis will buy the steelworks in Smederevo as it would be of utmost national importance.